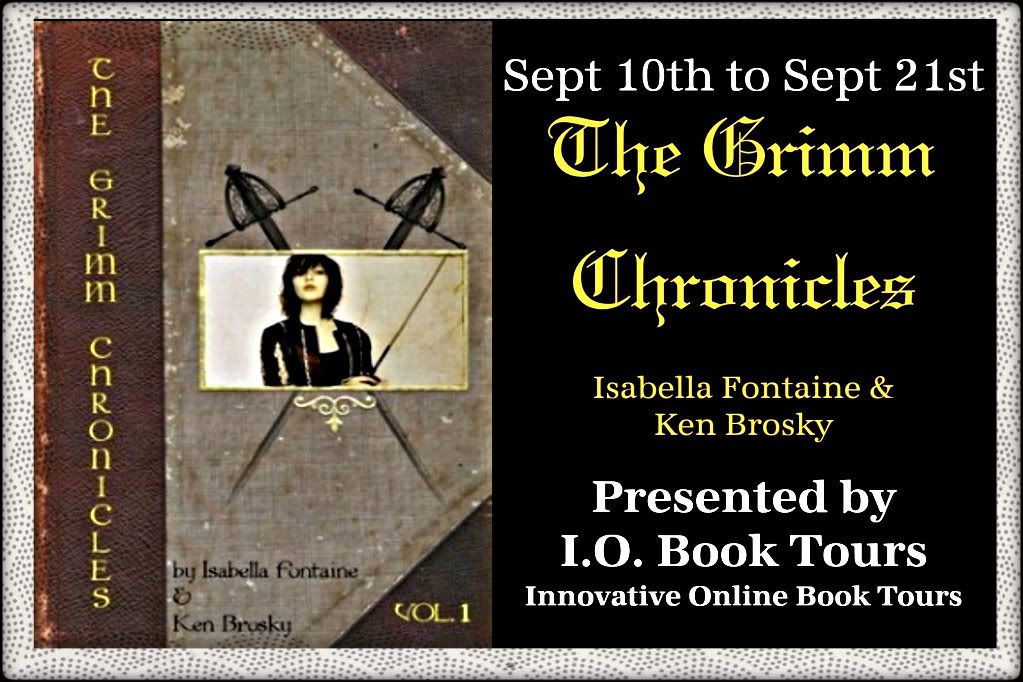 Hey guys! Another book tour! I am glad it came before my classes start, though I am in between a lot of review books.
Title:
The Grimm Chronicles Vol.1
Author:
Isabella Fontaine ,
Ken Brosky
ASIN:
B008SHPM8M
Goodreads Synopsis:
200 years ago, the Brothers Grimm unleashed their stories upon the world. Literally. Now the characters of the Grimms' stories walk among us. With every day that passes, they grow more evil. They are the Corrupted, and only a hero can stop them.
For 18-year-old Alice Goodenough, that means taking precious time off from her summer vacation. In addition to volunteering at the local library, Alice must stop the Corrupted who are now actively hunting her down. With the help of her magic pen and her trusty rabbit friend, the world has suddenly gotten a lot more complex. The Corrupted are everywhere, and only Alice can see them for what they truly are.
This book contains the first 3 episodes of the critically acclaimed series: Episode 1: Prince Charming Must Die!
Episode 2: Happily Never After
Episode 3: Revenge of the Castle Cats
Review:
My automatic response to this book when I saw it on 'Innovative Online Book Tours' was Oh my God I have to read this! It seriously was. I am a
huge
fan of fairytales and retelling of them. Not to mention the twists and turns along the way. Why else would I be a huge fan of 'Once Upon A Time', 'Grimm' and 'Cinder'? They're retelling with twists and turns of beloved fairytales. So yes, I requested to be a part of this tour and loved it.
Alright so, the title was alright, since it's another retelling of the Grimm books, so it's fitting. Though the individual titles for each episode are way better! I thought those were quite creative. The cover needed a few more touches, though it wasn't bad either, but the synopsis is the best of the three.
Episode One: Prince Charming Must Die
Alice has the perfect life. She's got great friends, good grades, amazing books to keep her busy, and the
perfect
boyfriend. She even does fencing, and is the best at it - aside from her mega-awesome boyfriend. But when Alice starts her job at the local library near where she lives and discovers something really weird, her life changes. Armed with a pen she can now draw anything she knows, but not only that, she's a hero chosen to fight the '
corrupted
'. The Corrupted are Grimm story characters that had come to life, and Alice's job is to find them and kill them. Little does she know that the first hit is so close to home. With a pen for protection, notes from the previous hero as tips and a rabbit for guidance, would things go smoothly?
Episode Two: Happily Never After
After having killed one Corrupted and took the life of another that seemed to seek it, Alice is on the way to getting the hang of the whole process. Though she complains about the fact that she has no superpowers to help her with her job. This time around, even though there's Corrupted nearby, he's apparently not the immediate danger and Alice needs a trip to Chicago to get the one there first. A lot of sewers were involved and animal chases in the midst as Alice works her way to fight the next Corrupted in her dreams.
Episode Three: Revenge of the Castle Cats
Alice's encounter with the frog from the last episode has her poisoned. Briar - her helper rabbit- is berating himself that he didn't try to take her to the hospital straight after the encounter with the frog and her injury. As she's recovering she finds almost everyone obsessed with a new game 'Castle Cats', and worse, it seems to control them, making them eat awful candy and have them tranced. Alice needs her friend Seth's help to get the code for the game, which means it's inevitable that he knows her secret.
This has got to be one of my favorite Grimm interpretations until now! The book is amazing, and it reminded me so much of 'Grimm' the series, but in a great way. The quotes from the book were a great touch. I loved the writing, the style, the storylines and the different ways the Grimm characters were involved. I enjoyed everything about this book and cannot wait to read more episodes!
Rating: 4.5/5
Author Bio:

-Ken Brosky received his MFA in writing from the University of Nebraska-Omaha and lives in Madison, WI. In addition to writing The Grimm Chronicles, he also spends time writing literary fiction and has been published in magazines including Gargoyle and Barcelona Review.
-Isabella Fontaine calls Wisconsin her home. This is her first Young Adult series. She once read through the entire dictionary because she wanted to know more about words!