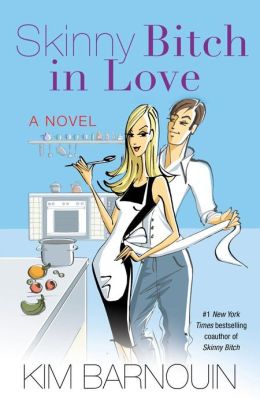 Title:
Skinny Bitch in Love
Author:
Kim Barnouin
ISBN:
147670886X
Release Date:
June 4th 2013
Publisher:
Gallery Books
Book Source:
NetGalley
Buy From:
Amazon
-
Barnes & Noble
Goodreads Synopsis:
Clementine Cooper is a born vegan, com­mitted in every way to the healthy lifestyle she was raised with on her father's organic farm. But how bad could a little butter be? Bad enough to get the ambitious and talented sous chef fired when an influential food critic discovers dairy in Clem's butternut squash ravioli with garlic sage sauce. Though she was sabotaged by a backstab­bing coworker, Clem finds herself unceremo­niously blackballed from every vegan kitchen in L.A.
Like any vegan chef worth her salt, however, Clem knows how to turn lemons into delicious, cruelty-free lemonade cupcakes. She launches the Skinny Bitch Cooking School in hopes of soon opening her own café in an empty space near her apartment. But on the first day of class, sexy millionaire restaurateur Zach Jeffries puts a fork in her idea with his own plans for the space—a steakhouse. Clem is livid. For a carnivore, Zach is more complicated than she anticipated. He's also a very good kisser. But could dating one of the most eligible bachelors in the city—and a meat-eater—be as bad for Clem as high-fructose corn syrup? Shouldn't she fall instead for a man who seems to be her perfect match in every way—like Alexander Orr, a very cute, very sweet vegan chef?
Clem thought she was open-minded, but as she confronts the challenges of budding entrepre­neurship, old rivals, ex-boyfriends, and tempting suitors, she begins to wonder if she can ever say "I love you" to a man who hates tofu.
Review:
Another contemporary read for the summer. This book was just another one I really needed with my frazzled state of mind due to exams.
Clementine's been cooking since as long as she can remember. Even before she got into culinary school and started working as a chef. She's sure she would be the
IT
vegan chef in town, especially with the famous food critic coming in on her watch. So when when her big break turns out very badly that she ends up fired instead, she needs a backup plan to finally make her dream of opening her new restaurant come true. The problem is, she's blackballed in the industry, and her perfect location for a restaurant has been taken by gorgeous but very meat-loving Zach. She needs to come up with new ways to make money and so
Skinny Bitch
comes to life. Her way of proving to everyone she's great and landing back on her feet. But if she stops to think of her love life, wouldn't Alexander, the hot and very sweet foreigner be a better match than Zach the meat-eating jerk she can't stop fighting with?
I loved the characters in this book, how not everything came so easy
even when they were skinny
. Clementine is the kind of girl who likes to make things happen, she hates letting people do her work for her or any financial aid from anyone. I liked that about her. I also loved her roommate Sarah, she's this very supportive, protective roommate, yet such a softie inside. Then there's the whole mess with both Alexander and Zach, they're too very different and conflicting characters I didn't know who
I
would choose given the chance.
Kim's writing was very well done and I appreciated how light and fast-paced it was. I liked the whole ups and downs of the story as well as the many turns I did not see coming, all in all a very enjoyable read.
Rating: 3/5!