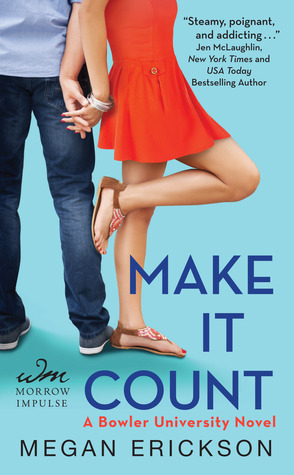 ISBN:
006235339X
Book Genre:
New Adult Contemporary
Release Date:
June 3rd 2014
Publisher:
William Morrow Impulse
Goodreads Synopsis:
Kat Caruso wishes her brain had a return policy, or at least a complaint hot-line. The defective organ is constantly distracted, terrible at statistics, and absolutely flooded with inappropriate thoughts about her boyfriend's gorgeous best friend, Alec…who just so happens to be her brand new math tutor. Who knew nerd was so hot?
Kat usually goes through tutors like she does boyfriends—both always seem to bail when they realize how hopeless she is. It's safer for her heart to keep everyone at arm's reach. But Alec is always stepping just a little too close.
Alec Stone should not be fantasizing about Kat. She's adorable, unbelievably witty, and completely off limits. He'd never stab his best friend in the back…
But when secrets are revealed, the lines of loyalty are blurred. To make it count, Alec must learn messy human emotions can't be solved like a trigonometry function. And Kat has to trust Alec may be the first guy to want her for who she is, and not in spite of it.
Review:
I don't think I have a rational reason why I requested this book on edelweiss, especially since it sounded like another one of those betrayal books that make me run in the opposite direction. But I did, and I started reading it, and frankly it wasn't anything like I thought it would be.
Kat hates being called dumb, but she knows that's what everyone thinks of her. Her own parents are thankful she at least has the looks and have very low expectations of her, which frustrates her to no end, especially when she gets no reaction after telling them she was on academic probation. To top it all off, her new tutor is none other than her boyfriend's best friend Alex Stone, who she may be harboring an inappropriate crush towards. It doesn't help that Mr. Know It All is nicer than he seems, but she might be able to handle anyone else thinking she was dumb, except for him.
What I really loved about this book was the fact that the betrayal wasn't the entire focus of the story, there's a whole chunk of it dedicated to Kat as she grew into her skin and tried to find herself without being defined by what others thought of her. That part was just damn incredible. Then there were parts about friendships and forgiveness, and letting things go. There's so much to this book than I'd initially thought, and I'm quite glad I got a chance to read it. The characters albeit a little flat sometimes were still very real, flawed and quite lovable. The pace of the story was great, the writing was smooth and the story itself went along quickly enough. I finished reading this book in mere hours and enjoyed every minutes of it.
I can't wait to read the second and third books in this series, I'm dying to know what happens with Max! He seemed like such a horrid character in this book, but he was never explored as thoroughly as I'd hoped - I'm guessing because he gets his own book. Either way, I know there's more to him, I just can't wait to find that out.
Rating: 4/5.