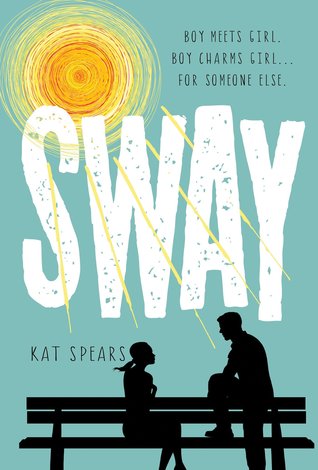 ISBN:
1250051436
Book Genre:
YA Contemporary
Release Date:
September 16th 2014
Publisher:
St. Martin's Press
Goodreads Synopsis:
In Kat Spears's hilarious and often poignant debut, high school senior Jesse Alderman, or "Sway," as he's known, could sell hell to a bishop. He also specializes in getting things people want---term papers, a date with the prom queen, fake IDs. He has few close friends and he never EVER lets emotions get in the way. For Jesse, life is simply a series of business transactions.
But when Ken Foster, captain of the football team, leading candidate for homecoming king, and all-around jerk, hires Jesse to help him win the heart of the angelic Bridget Smalley, Jesse finds himself feeling all sorts of things. While following Bridget and learning the intimate details of her life, he falls helplessly in love for the very first time. He also finds himself in an accidental friendship with Bridget's belligerent and self-pitying younger brother who has cerebral palsy. Suddenly, Jesse is visiting old folks at a nursing home in order to run into Bridget, and offering his time to help the less fortunate, all the while developing a bond with this young man who idolizes him. Could the tin man really have a heart after all?
A Cyrano de Bergerac story with a modern twist, Sway is told from Jesse's point of view with unapologetic truth and biting humor, his observations about the world around him untempered by empathy or compassion---until Bridget's presence in his life forces him to confront his quiet devastation over a life-changing event a year earlier and maybe, just maybe, feel something again.
Review:
"Jesse is fashionably indifferent," Bridget said without a hint of irony in her voice.
I think I'm kind of in love with this book. It's like reading Looking for Alaska only the hero is the Colonel. The male lead isn't the usual meek, impressionable student. He isn't the most popular jock either, he's just this guy people keep around because things can go bad if he goes against them, or because more often than not they need him for something. But he's not someone you'd exactly call a friend, just someone to keep on speed dial when you need absolutely anything. And for Sway, well he doesn't exactly do favors for anyone, everything is a business transaction. No matter how minor the request is, if there's no money involved, he's not interested. Though, he's not always open to all kinds of requests, he's picky and a bastard at heart. He has no friends except for Joey who's become more of an annoying sister figure / business partner than anything.
He justifies his shady and less than orthodox business inclinations with this:
Nothing is good or bad, only thinking makes it so. Shakespeare was the one who said that. It's the only interesting thing I've learned after three years of high school.
The thing is, Sway (Jesse) is pretty damn smart, but that doesn't necessarily mean he's going to use his head for something as mundane as studying and school. The breaking point in which he changed to this gem of a persona happens right after his mother's death, where he becomes numb to most human emotions, and doesn't form attachments or believe in any good in the human nature. He becomes this no nonsense, no bullshit kind of person and gives everything with brutal honesty (unless he needs something from someone, then he knows how to butter them up).

"You visit your grandmother, you volunteer at Seigel Center - what do you do for fun on the weekends - rescue kittens or work in a soup kitchen?" I asked.
"Now you are making fun of me," she said. I lengthened my stride so I could reach the door before her and hold it open. She thanked me as she walked through.
"I'm not making fun of you," I said. "I'm truly interested. The concept of altruism fascinates me, though I don't really believe in it. You must have a selfish motive for all of your good deeds."
So Jesse is this enigma, a mix of all kinds of good and bad, in a way that shows you he's right, you can't exactly classify someone as something in particular, but also as his numbness starts to fade away throughout the book, he's forced to face emotions again and it's not a pleasant journey for him. Now don't get me wrong, he doesn't pull a 180 and become this paragon of sainthood all of a sudden or anything, but he slowly begrudgingly allows some things to affect him, or force a reaction out of him when normally they wouldn't. He's very wry and smart and full of these quirky elements of humor that help in rounding up this loaded mess of a personality he has.
He took a moment to look around the deserted yard, make sure he was not overheard. "I want you to get me a girl," he said."Well, you know, that's not really my line. Not that I object to it on moral or legal grounds," I said, holding up both hands in supplication, "but, strictly speaking, I don't mess with prostitutes or call girls."
This book was seriously hilarious and such a fun ride! Especially with Jesse at first who appears to be seriously morally reprehensible, I mean a guy who borrows an old man and claims he's his grandfather to get a girl to talk to him, use her sick brother as a way to get to her and basically gives things she says to him in confidence to this douchebag who wants to date her for two hundred bucks isn't exactly the modal citizen. But his ride to the end line was a great one to watch!
Rating: 5/5!