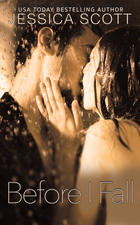 Title:
Before I fall
Book Genre:
NA Contemporary
Release Date:
March 10th 2015
Goodreads Synopsis:
Stay focused. Get a job. Save her father's life.
Beth Lamont knows far too much about the harsh realities of life her gilded classmates have only read about in class. She'll do whatever it takes to take care of her father, even if that means tutoring a guy like Noah - a guy who represents everything she hates about the war, soldiers and what the Army has done to her family.
Noah Warren doesn't know how to be a student. All he knows is war. But he's going to college now to fulfill a promise and he doesn't break his promises. Except he doesn't count on his tutor being drop dead gorgeous and distracting as hell. One look at Beth threatens to unravel the careful lies Noah has constructed around him.
A simple arrangement turns into something neither of them can deny. And a war that neither of them can forget could destroy them both.
Review:


Recently with my New Adult phase I'd gotten to read so many books about soldiers coming back from war and the struggles they go through. I found them fascinating and this book was no exception. The story was from a dual point of view so you got to see things from Noah, the broken soldier coming home and not sure how he fits in anymore, and Beth, the girl whose father's war days returned him equally as broken but with more disasters to come. Both characters have their insecurities and things that they fear and I enjoyed reading about them both as I dove into their lives.

This was a quick and highly entertaining read. I loved the writing and didn't fully hate the female lead, which is a high praise considering I've been hating a lot of them recently. But I didn't fully love her either, there were things about both her character as well as Noah's that I just found to be a bit over the top. However my overall impression of the story was positive.

Rating: 3/5.