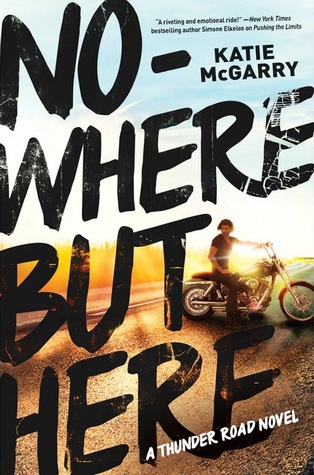 Title: Nowhere But Here
Book Genre:
YA Contemporary
Release Date:
May 26th 2015
Publisher:
Harlequin Teen
Goodreads Synopsis:
McGarry about taking risks, opening your heart and ending up in a place you never imagined possible.
Seventeen-year-old Emily likes her life the way it is: doting parents, good friends, good school in a safe neighborhood. Sure, she's curious about her biological father—the one who chose life in a motorcycle club, the Reign of Terror, over being a parent—but that doesn't mean she wants to be a part of his world. But when a reluctant visit turns to an extended summer vacation among relatives she never knew she had, one thing becomes clear: nothing is what it seems. Not the club, not her secret-keeping father and not Oz, a guy with suck-me-in blue eyes who can help her understand them both.
Oz wants one thing: to join the Reign of Terror. They're the good guys. They protect people. They're…family. And while Emily—the gorgeous and sheltered daughter of the club's most respected member—is in town, he's gonna prove it to her. So when her father asks him to keep her safe from a rival club with a score to settle, Oz knows it's his shot at his dream. What he doesn't count on is that Emily just might turn that dream upside down.
No one wants them to be together. But sometimes the right person is the one you least expect, and the road you fear the most is the one that leads you home.
Review:
Katie McGarry has a thing where she gives you a particular setting with a character so opinionated on a particular topic. The protagonist always has a valid reason for said opinion and presumed truth. But, as the story proceeds, every opinion the reader and the protagonist had are torn into shreds. I kind of love that as well as the creative ways she makes that happen, and the journey you take with the protagonists throughout the story. I anticipated it and was sure there was more to the story than meets the eye. I'm just really happy I didn't see it coming and was surprised by the ending. Not many stories can manage that.
I am so deeply enamored with the "Pushing the Limits" series, and as much as I admire her as an author, and adore everything she's written so far, I have to admit I was a bit wary. I read a bunch of books on gangs and motorcycle clubs before, and they scare me because of the inevitable heartache that comes along with it. I'm not saying her other stories didn't have any heartache, let's face it I bawled like a baby with Pushing the Limits. But here, police can't serve as a justice enforcer as a way to solve the problem. Gangs don't work that way, so I was prepared for the worst.
The story is about Emily, a normal girl with a bunch of fears, living a normal quiet, safe life. She's adopted and loves her dad, but isn't really fond of the moments she had to spend with her biological father. When her parents receive an email informing them that Eli, Emily's biological father, his mother died, which in turn made Emily's mother freak out and want to make her small family go to attend the funeral. But then, insanity ensues as Emily suddenly stumbles into a conflict between two gangs and she's forced to spend time with Eli and his family, as well as be forced to have Oz as her 'babysitter', to make sure she's safe.
Initially, I actually wasn't that big a fan of both Emily and Oz. I found them annoying. But as the story went on, and I got to know more about them and their stories, I got to learn more about their fears, insecurities, loyalties and the buttons that made them click. I absolutely love the character depth in the story and that I got to learn more about them both.
My nerves were on end throughout the entire story as I was very terrified of what will be happening at the end. It was such an incredible, well rounded story that took me on a very emotional ride. I laughed and cried a lot, which in my book meant that it was a very well written book. I enjoyed following the story as it unravelled, and seeing the characters develop, change, and grow up by the end of the book. I was gripped and had a hard time stopping, I couldn't manage until I was completely done with the story to be honest.
Rating: 5/5!
I can't wait for it to come out and for me to get my own book. Not to mention I
need
to know what happened with Violet and Chevy, like
need
to know. It's been messing with my mind wanting to know what happened there.
For now, I've got these cool bookmarks to tide me over!