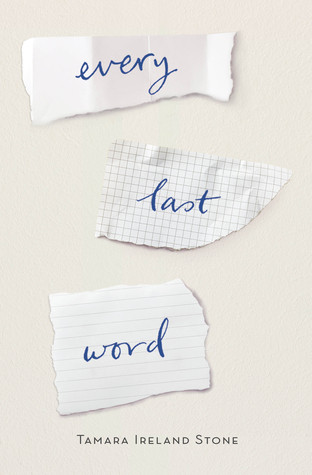 Title: Every Last Word
Author:
Tamara Ireland Stone
ISBN:
1484705270
Book Genre:
YA Contemporary
Release Date:
June 16th 2015
Publisher:
Disney Hyperion
Goodreads Synopsis:
If you could read my mind, you wouldn't be smiling.
Samantha McAllister looks just like the rest of the popular girls in her junior class. But hidden beneath the straightened hair and expertly applied makeup is a secret that her friends would never understand: Sam has Purely-Obsessional OCD and is consumed by a stream of dark thoughts and worries that she can't turn off.
Second-guessing every move, thought, and word makes daily life a struggle, and it doesn't help that her lifelong friends will turn toxic at the first sign of a wrong outfit, wrong lunch, or wrong crush. Yet Sam knows she'd be truly crazy to leave the protection of the most popular girls in school. So when Sam meets Caroline, she has to keep her new friend with a refreshing sense of humor and no style a secret, right up there with Sam's weekly visits to her psychiatrist.
Caroline introduces Sam to Poet's Corner, a hidden room and a tight-knit group of misfits who have been ignored by the school at large. Sam is drawn to them immediately, especially a guitar-playing guy with a talent for verse, and starts to discover a whole new side of herself. Slowly, she begins to feel more "normal" than she ever has as part of the popular crowd . . . until she finds a new reason to question her sanity and all she holds dear.
Review:
I've never honestly read a book about a person with OCD. I think watching a season of Monk was as far as I went with my knowledge of it. All I knew of it was the counting, the superstitious parts, however, I never knew it can be obsessing about anything including thoughts. It was very enlightening to get to know about a different side of it and it's inspiring me to read more about the disease. I'm glad I got around to reading this book, because maybe I'm a little OCD myself.
Samantha obsesses over things. Boys, the number three and mostly, words. Her life is very strained as she tries to hide her OCD nature from her childhood friends and everyone else around her, except she can't seem to help telling her new friend Caroline everything. She entrusts Caroline with her secrets, insecurities and habits, and in return Caroline shows her a brand new way to deal with them, and a new safe haven in The Poet's Corner at school. There she meets new people, experiences new things and her brand of crazy seems to lessen, but is it really?
I loved this book so much. It spoke to me on so many levels and I enjoyed every second of it. Granted, there were some fairly predictable parts for me, but that didn't make the story any less enjoyable, I just wanted to know more. The element of realism in the writing and plot was so incredible, which grabbed hold of my attention and kept me going until I was done with the story. I laughed, cried and thoroughly delighted in this book.
The best thing about the story is that it helps you embrace who you are no matter what. Your brand of crazy, your quirkiness, your weird habits, they're all parts of what make you special, and that no matter how abnormal you feel you are, everyone is special, we just need to understand that.
I roll my eyes. "Really, Sue? Special?"
"Very. Your brain works differently, Sam. Sometimes it does things that scare you. But it's very special, and so are you."
'Thank you." I smile at her. It's a kind thing to say. But I know where she's going here. "You're sharing this story to make me tell AJ, aren't you?"
"I'm not making you do anything. Whether or not you tell him is entirely up to you. I'm merely reminding you to embrace who you are and surround yourself with people who do the same."
"When am I going to stop making mistakes, Sue?"
Her laugh catches me off guard and I look up at her wide-eyed and confused. "Why on earth would you want to do that?" she asks.
I stare at her.
"Mistakes. Trial and error. Same thing. Mistakes are how we learned to walk and run and that hot things burn when you touch them. You've made mistakes all your life and you're going to keep making them."
"Terrific."
"The trick is to recognize your mistakes, take what you need from them, and move on."
"I can't move on."
"You can't beat yourself up, either."
I am not personally good with poems, I really suck at them actually. But I did appreciate what the Poet's Corner stood for, why it was there and its rules. It's a great outlet for people who feel inadequate, unappreciated, and have a lot of things going on in their lives they can't control. Everyone needs and outlet, and this place where you're not judged, you're encouraged and driven into working harder and accomplishing other things. One of the best rules is that poetry is about self-expression, you cannot criticize someone's work or your own.
"I wrote this last weekend in my room. And, okay, I'm sayin' it." He pauses for dramatic effect. "This one sucks."He stands up, holds his hands in front of him, and lets the guitar fall slack so the strap catches it. He's gesturing toward himself in the go-ahead-let-me-have-it kind of way, and everyone around me starts ripping papers out of notebooks, balling them up, and chucking them at him. He laughs and keeps gesturing with his hands, silently telling them to keep it coming.I look over at Caroline. She won't make eye contact with me, so I lightly elbow pixie cut girl. "Why are they doing that?" I ask, and she comes close to my ear. "It's one of the rules. You can't criticize anyone's poetry, but especially not your own."
Everyone is allowed to feel things I guess, everyone has a particular place that inspires them or makes them feel at ease, and another thing they believe in, is that these places? They're important.
"Why do you always start by saying where you wrote your poem? Why does that matter?""Is there a place that inspires you?"I picture my room, huddled down in my sheets far past my bedtime, writing until my hand huts. It's fine, but I wouldn't call it inspirational. Then I think about the pool."Yeah."AJ looks right at me. "We think those places matter. We think they're worth sharing, you know? Because when you share them, they become part of the poem."
Anyhow, this book made me fall in love with it. It caused me pain, joy and made me laugh. It gave me goosebumps and stayed with me for days since I read it. So I definitely think it's worth the read and can't wait to get my own copy of it!
Rating: 5/5!