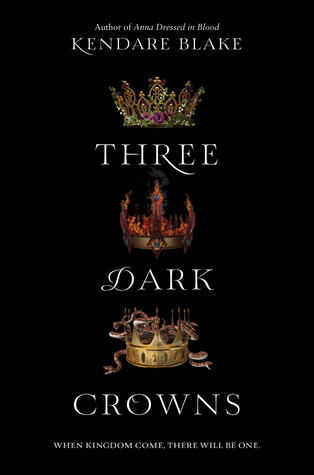 Author: Kendare Blake
Book Genre:
Young Adult, Fantasy
Release Date:
September 20th 2016
Book Source: Edelweiss
Goodreads Synopsis:
Every generation on the island of Fennbirn, a set of triplets is born: three queens, all equal heirs to the crown and each possessor of a coveted magic. Mirabella is a fierce elemental, able to spark hungry flames or vicious storms at the snap of her fingers. Katharine is a poisoner, one who can ingest the deadliest poisons without so much as a stomachache. Arsinoe, a naturalist, is said to have the ability to bloom the reddest rose and control the fiercest of lions.
But becoming the Queen Crowned isn't solely a matter of royal birth. Each sister has to fight for it. And it's not just a game of win or lose... it's life or death. The night the sisters turn sixteen, the battle begins. The last queen standing gets the crown.
If only it was that simple. Katharine is unable to tolerate the weakest poison, and Arsinoe, no matter how hard she tries, can't make even a weed grow. The two queens have been shamefully faking their powerful sister Mirabella none the wiser. But with alliances being formed, betrayals taking shape, and ruthless revenge haunting the queens' ever move, one thing is certain: the last queen standing might not be the strongest...but she may be the darkest.
In the land of Fennbirn, queens are born as triplets, but only one survives, as they all work on killing the others to claim the throne. The triplets are born with special abilities and are given to the care of specific households to raise them, in the best way that can enhance those abilities. Katharine is a poisoner, Mirabella is an elemental, and Arsinoe is a naturalist. The setting and the plot of the story are very eerie and gruesome. Think, Hunger Games. You have triplets born and raised to kill one another with only one surviving. They have rituals to entertain the public, and rules to abide by, which makes the death more calculated and conniving, definitely creepy.
The writing is really good, it hooks you in a very confusing way. It's written in third person narrative, which is befitting because it's the only way in which you can be impartial to the three queens, and be equally as engrossed as well as uncertain of who will get the throne.
The characters are well-rounded and diverse, with so many uncertain and volatile factors, making it difficult to choose a particular one to root for. What's best about this, is that it called out to the feminist in me. The governing system is a matriarchy, with a heap load of kick-ass female lead and side characters, coming in all shapes and sizes. From good to evil, from giftless to powerful, and from a submissive to a sovereign.
Kendare has created this intricated plot where nothing goes the way you think it will go. It's unpredictable, but as everything starts happening, you feel a sense of helplessness at the frustrating elements and events going on. This book gave me a Ruined by Amy Tintera's vibe, where by the end I'm too scared to read what's going to happen next. I honestly have no idea where I want the story to go. Every possible scenario I can think of leaves me sad, and I'm not sure if I'm willing to tolerate the emotional torture by reading the next book in this series.
TOP QUOTE:
Crowns are no longer won, they are made, through politics and alliances.
This book is ideal for fantasy lovers, particularly ones who love a woman in charge. I would personally recommend it, even though the ending's cliffhanger worried me more than actually intrigued me. I'm not big on siblings pitted against one another, especially when none were born evil through no fault of their own.
Considering I was having a hard time coming to terms with whose side I want to be on, I decided to go take the
epicReads
test to help me decide. It turns out I should support Arsinoe. But I seriously don't mind, or wouldn't have minded with any of the three, to be honest. I feel so much for all three sisters. Some had it better than others in one way or another, but I genuinely felt the saddest for Katharine, of all three, she got the worst possible bargain and lived the worst life.
Rating: 3.5 (or maybe 4?) out of 5.